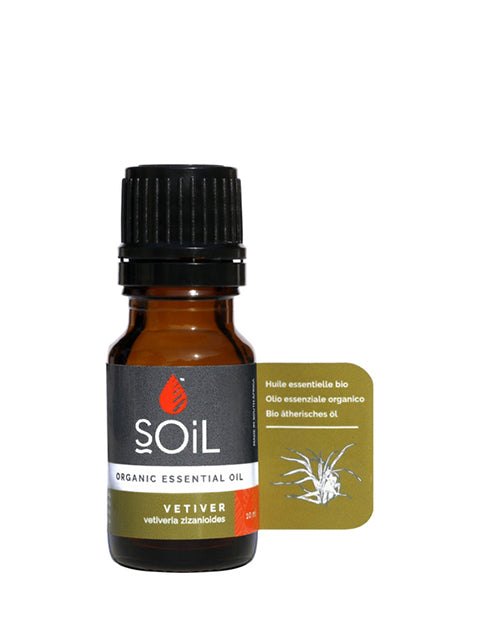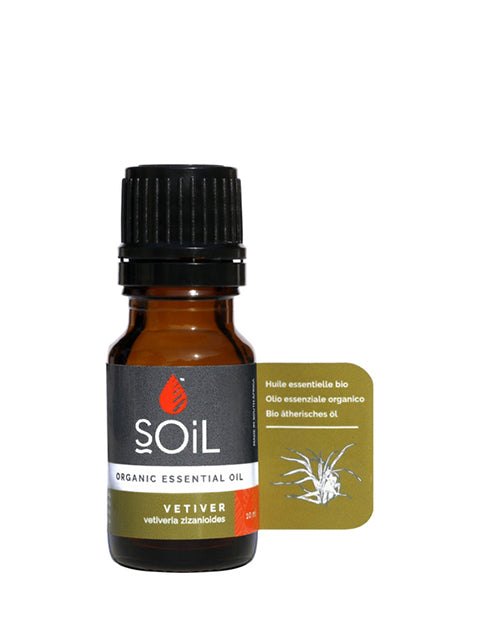 SOiL Organic Aromatherapy and Skincare
Vetiver is a tall grass, native to India. It is sometimes used to prevent soil erosion due to its network of roots. It is these fibrous roots which are cleaned, dried and distilled to produce the sweet earthy smelling oil. Vetiver is often used in perfumery and is a valuable oil due to its grounding nature. Vetiver is considered nourishing and moisturizing to the skin.

Vetiver smells warm, dry, and earthy — and it conveys various floral, leathery, balsamic, and smoky notes.
It is well known to be one the most most effective of the grounding oils, used post psychedelic experience to increase feelings of calm and connection. 
100% Pure Oil in a 10ml bottle size
Certified Organic: Certified by ECOCERT, France
Vegan and Endorsed by Beauty Without Cruelty
Botanical name: Vetiveria Zizanoides
Part of plant used: Roots
Extraction method: Steam distillation.
Precautions: Non-toxic.
Co-blenders: Frankincense, Grapefruit, Lemon, Lavender, Patchouli, Sandalwood and Ylang-Ylang.

No Animal Testing      
No Parabens      
No Petro-Chemicals   
No Synthetic Colors      
No Synthetic Fragrances